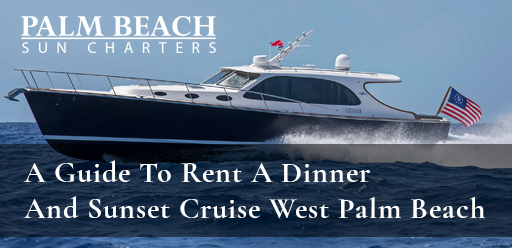 A Guide To Rent A Dinner And Sunset Cruise West Palm Beach
October 8, 2021
Sunset and dinner cruises have their own charm as they allow you to experience the beautiful sunset and the silver of the moonlight. So, if you want to take a break for some time from the chaotic lifestyle and want to spend a peaceful time in the serene and calm West Palm Beach water, then nothing can be a better option than choosing this type of cruise.
You can calm your spirits while sailing through the shimmering water and enjoying the sun sinking away. After that, you can sign up for the romantic dinner cruise and can spend some romantic time with your partner. This way, the sunset and dinner cruise can be the highlight of your trip to West Palm Beach while being the most fun-filled and genuine way to get a day off and enjoy with your friends and family members.
Now the question is how to select the best boat rental for a sunset cruise West Palm Beach. With a wide range of boats to select from, it is very simple to book a boat now for relaxing later. When it comes to renting a sunset and dinner cruise, we often choose a comfortable boat for relaxing on with a beautiful view. Here are boat types that are ideal for the sunset and dinner cruise.
1. Pontoon boat: These boats are the perfect option to choose if you need loads of space and seating for all your guests to set the cruise on. Due to the ease of driving, these boats are one of the preferred choices of people, who want to enjoy the trip on their own without a captain at the helm.
2. Sailboat: These boats are unique and a fun-filled way to enjoy the beautiful view of the sunset. These boats offer a 360° view, which allows you to enjoy the sunset from almost every angle. You can even rent this boat with a captain to relax and kick back while the captain will show you the ropes.
3. Yacht: Choosing a yacht is the best option if you want to make the sunset and dinner cruise West Palm Beach a more formal affair. These boats come with loads of space and seating arrangements so that you can enjoy the trip with a group of people even with the little ones.
What food and drinks to carry on the cruise to enjoy onboard?
 Snacks: Bringing some food onboard would add a great touch to the sunset and dinner cruise. It is important to bring something simple and easy to make sure that you get the scope to enjoy and relax with your family. Some of the popular options include pre- made sandwiches, a charcuterie board, or already-cut fruits. If you are traveling with kids, then carry something as per their preferences.
 Drinks: If you are planning to kick back and relax, then hire a captain and enjoy your drinks. It would be the perfect touch to the time that you want to spend on the cruise. Carry some fresh fruit juices so that your kids also have something to sip in.
Make things even more thoughtful with these additional tips:
Sunset and dinner cruise is undoubtedly the best option to wrap up the eventful weekend at West Palm Beach and to add thoughtful touches to your trip, you can follow these tips.
 Check the time when the sun will set in your location before booking to make sure that you experience the best sunset on the water.
 Prepare a playlist with your favorite songs and play it when cruising on the water.
 If you are on the cruise with your partner, then reminisce the past beautiful memories you made together.