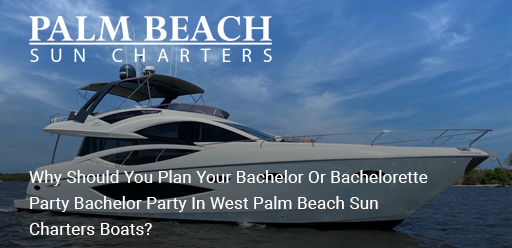 Why Should You Plan Your Bachelor Or Bachelorette Party In West Palm Beach Sun Charters Boats?
September 22, 2021
A bachelor or bachelorette party works as a decent farewell to your bachelor life and therefore, it is great fun for everyone. And when you want to plan a unique bachelor or bachelorette party with your gang, nothing can be a better place than a rented boat. Renting a boat allows you to gather the best people of your life, enjoy many scenes at a time, and drink as much as you like without any restriction as you don't have to drive later. Depending on your budget, you can even enjoy an endless party with your friends for several days on the boat. And the best thing about enjoying a bachelor party on the boat is that you don't have to think about anything. The captain and other boatmen will manage everything. This will make your party more interesting. The captain will not only operate the boat, but he will also take care of the leisure activities in the boat. As a result, you will have an experience that will be memorable forever.
So, if you are planning to an unforgettable bachelor or bachelorette party soon but are not sure whether it is a good idea to rent a boat or not, then let me tell you some reasons to arrange your bachelor or bachelorette party on the boat.
1. Boats offer loads and loads of space: Whether you arrange your bachelor or bachelorette party in the pub or the party bus, you will have limited space. But when you plan the bachelorette party in Palm Beach sun charters boats, there would be no dearth of space at your disposal. And you can accommodate up to 50 guests at the boat party.
2. Boats come with fully stocked food counters and bars for your party: When you plan something special for your bachelor party in West Palm Beach sun charters boats, you must need the service of an expert party planner to make things easier for you. So, when you choose to rent a boat from a reputable boat rental company for your party, you can have a fully functional bar ready to serve you even before your party fires up. And an expert bartender will keep the guests entertained throughout the party. Besides, you can have a complete range of options for dancing, eating, and drinking the time away. So, with a bar fueling your party along with some delicious beverages, there would be a complete range of meals and munchies to keep everyone full. This way, your guests will be entertained.
3. A boat trip allows you to enjoy some unbeatable scenic beauty: The bachelor party is all about making memories. Whether you are a groom-to-be or a bride-to-be, this party will allow you to live out of wild fun for a night or two before settling into the married life. And renting a boat will offer you the perfect setting to capture the memories worth your lifetime. So, when you have arranged a West Palm Beach bachelorette party, you can have great fun with the sun going down to the horizon and the big blue Atlantic Ocean in the backdrop. When you plan to do something different, the ocean offers a lot of inspiration. Besides, there are so many things to capture on the yacht. So, it will be a memory of a lifetime with some wonderful pictures.
Even if you want to plan a bachelor or bachelorette party for your friend on the boat, you can consult with a boat rental company with your requirements. And they will help you to have some wonderful memories that you would remember fondly.