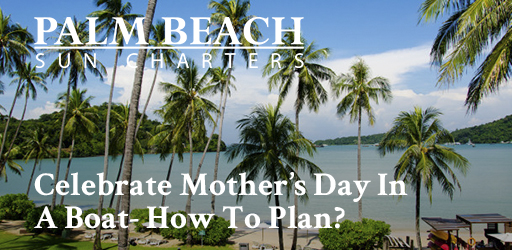 Celebrate Mother's Day In West Palm Beach Boat- How To Plan?
May 7, 2021
Mother's day is knocking at the door. And the weather is warm enough to enjoy the weekend on the boat. But before you proceed, it is important to make a plan to make the West Palm Beach boat tour a memorable one.
 Begin with the brunch on board:
Breakfast in bed is always nice, but when you plan an entire brunch for your mother on board on the West Palm Beach boat rental, then this will be very special for her. Depending on your budget, the size of the boat's galley, or the availability of takeout from any local restaurant, you can choose a simple brunch or a full-on one. Make things more special by sprucing up the table settings. This will enhance the enjoyment.
 Gift her boat hat:
When you spend time on the boat for a day or two with your mother, you should buy an oversized sun hat for her. There are many options for choosing boat hats that you can buy depending on your mother's preferences and your budget.
  Play good music to make the day even more special:
Music is not only meant for setting the mood, you can also use music for conveying the message of love and gratitude to your mother. But before you set the playlist, learn about your mother's musical tastes and then set the playlist to be played on the boat.
 Let your mother take the helm as captain:
If your mother is passionate about driving, then you can make her even more special on this mother's day by taking the helm as captain in the West Palm Beach boat excursion. Here she can learn and use the skills that can make him feel confident with the wheels and throttles. If she likes the experience, then you can later present her a boating course.
 Get creative for the dinner onboard or plan a dock and dine:
After spending a long day on water, you must be feeling hungry. So, you must plan a creative dinner onboard on the West Palm Beach dinner cruise or plan a dock and dine at a good restaurant. Choose a place which your mother prefers and that has a nice menu for the special day. The former option is more personalized. In case your boat cruises in an area with beaches or parks that allow barbequing, then you can bake fish or steaks.