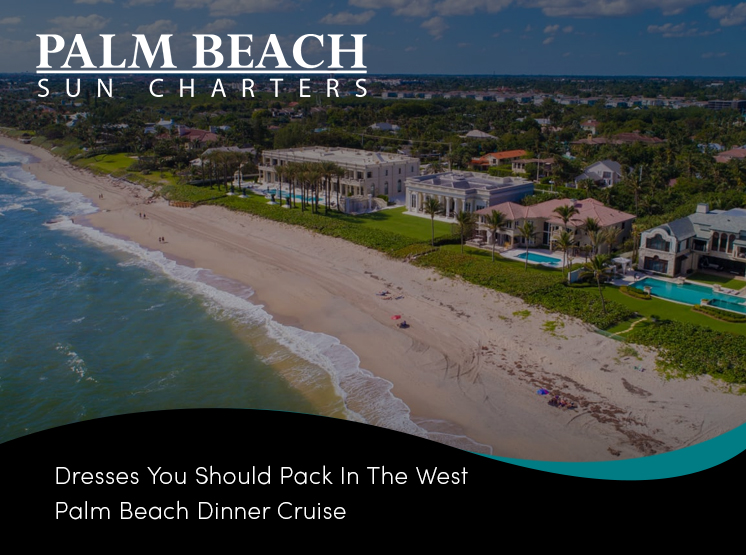 Dresses You Should Pack In The West Palm Beach Dinner Cruise
April 18, 2022
The special occasions of your life must be considered the unique opportunities for having exceptional celebrations. And one of the best ways to mark this moment is by choosing a sunset dinner cruise on a private yacht in a beautiful location. Imagine having dinner with your loved ones with a beautiful sunset as the backdrop. This will be a life-changing experience and you will want to repeat it again and again to have an atmosphere filled with romance and enchantment.
And once you plan to go for a dinner cruise, one of the most important things to decide is what to wear. And selecting the right outfit for the dinner cruise depends on several factors like the climate, your cruise destination, the scope of formal dining, and the activities you are planning onshore and onboard. For instance, deciding what to wear on the dinner cruise to Alaska will be completely different from what you will wear on the dinner cruise to West Palm Beach.  But before you pack anything, you must know that your cruise and boat rental outfits must be very comfortable. Always keep in mind that even though you have enough space in your suitcase, you will need the right clothing to wear from the arrival to departure and the excursions in between. So, take adequate time and carefully think about packing for the cruise and you would be ready to perfectly dress for each occasion in the cruise.
Things to wear: warm destinations:
Do you want to know what to wear when you are on a cruise to a warm destination like West Palm Beach? Let us tell you that packing for a cruise somewhere hot and humid is comparatively easy. Besides, warm clothing also takes pretty less room in the suitcase. So, the best idea is to pack clothing items, which are versatile like shorts or sundresses, which you can wear from dinner to beach excursions, or shorts that you will be wearing while hanging out on the deck and while taking part in any activity.
So, here are the following things you should pack for the West Palm Beach dinner cruise:
1. Minimum two or three swimsuits, the majority of the travelers cruising to West Palm Beach spend loads of time in the ocean. Carrying multiple swimsuits is beneficial as you don't have to wear one throughout the trip.
2. Tees, short-sleeved shirts, blouses, and tank tops
3. Shorts, different pairs in different styles
4. Several pieces of swimsuit cover-ups like caftans or cotton sundresses
5. Skirt-and-top outfits for women and one or two sundresses
6. Wide-brimmed hats and sunglasses
7. Light outer jackets like thin cardigans, pashminas, or light jackets in case of the cooler evenings
8. Non-slip boat shoes or water shoes with proper traction
9. A packable, lightweight, and waterproof jacket for rain You have to pack some additional items in the suitcase if you want to perform some excursions during your trip to West Palm Beach. You would need sturdy water shoes for the activities, which would take you to the water from the land and other adventures.
Apart from that, it is important to pack clothes for the special events on the dinner cruise trip. Cruise ships often include different restaurants onboard. And some of these restaurants even enforce dress codes. So, make sure you pack at least one outfit suitable for every requirement so that you can enjoy your time in the restaurants. For instance, you will need dresses to cover up the swimsuit. Avoid going back to the stateroom for changing between deck and restaurant by carrying some cover-ups like shorts, tees, or sundresses.
In the evenings, many ships also enforce the "cruise casual" dress code. This type of dress code for men can call for pants or long dress shorts and collared polo shirts. On the contrary, for women, the dress code may be skirts and blouses, sundresses, Capri pants, and dress shirts. But here you can't wear cut-off jeans, sleeveless shirts, gym shorts, or tees. On the other hand, if you are planning to take part in a cruise elegant event on the dinner cruise, you must carry a more formal and fancier outfit. Men can opt for dress slacks or suits with a dress shirt and sports coat. And women can opt for elegant blouses and skirts, pantsuits, or cocktail dresses. You can even choose a ball gown or tuxedo.
To conclude, we can say that the best thing about cruising is that it often organizes different events in a single vacation starting from partying and sipping drinks or juice on the deck to snorkeling and formal dining. So, when you plan for a dinner cruise, you must dress for the occasion. But don't forget to save a little space in the suitcase for souvenirs.