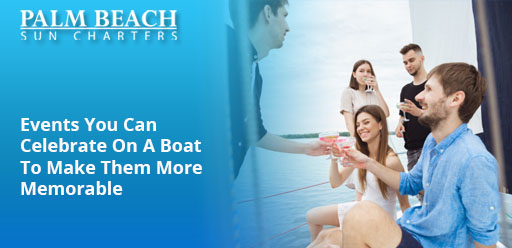 Events You Can Celebrate On A Boat To Make Them More Memorable
June 18, 2021
There is hardly anyone, who doesn't like to celebrate the special events of their life. So, whether it is your anniversary, birthday, some accomplishment, or any other important events of your life, you must like to plan great parties for the guests. And deciding the venue is one of the main parts of planning the event. Although deciding the date and time is also important, deciding the venue is necessary to get every detail right. Celebrating your special events on a yacht or the private boat rental charter Palm Beach is a great opportunity to make the celebration grander. Boats or yachts are a great way to bring everyone together without the requirement of booking a costly venue. And the memories created in the yacht will last for a lifetime. Renting a yacht is also a great option if you want to make a family occasion special. Starting from an anniversary to a birthday or graduation, spending a few hours on the yacht is a wonderful idea to make the event even more special. No
matter how small the event is, you can make it fun-filled, memorable, interesting, and special by considering renting a boat charter.
So, here are the events that you can celebrate on a boat to make them more memorable:
1. Weddings and anniversaries: Weddings and anniversaries are the two most special events of anyone's life. So, people often look for celebrating these events in the most unique manner possible. The Sandbar boat rental charter offers you the best scope to cherish the special moments of your life while spending romantic time with each other.
2. Birthdays: Birthdays are one of the important celebrations for anyone. And booking charter boats is a great option for making the celebration grand. So, by choosing boat rentals, you can make your birthday event very special.
3. Awards and honors: If someone in your family gets an honor or an award and you want to celebrate the ceremony, then booking an Intracoastal cruise boat rental charter for celebrating the news is the best thing you can do for him/her to mark this special achievement.