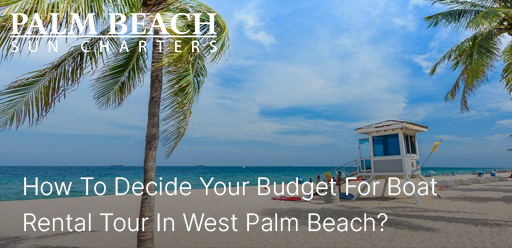 How To Decide Your Budget For Boat Rental Tour In West Palm Beach?
April 8, 2021
Yachts are one of the highly efficient vessels and everything on the yacht has both a purpose and place. Even though budget is important for planning every vacation, it is also a vital consideration when chartering the yacht as here the cost is differently priced than other types of vacations. So, if you are planning to take a yacht trip to West Palm Beach, then here are some of the factors you can decide the budget of your tour.
1. The time: The time of the year when you decide to book the charter may affect the cost. For instance, if you are considering an Intracoastal cruise boat rental charter during peak times, then you have to pay more. But you can save money by choosing to book the yacht in the off-season. April to May and September to October are the two best times of the year to plan your trip to West Palm Beach to avoid peak hotel rates and airfares.
2. Destination: When you decide to visit West Palm Beach during peak season, go for the Tequesta sandbar boat rental charter and enjoy a perfect escape from the hustle
and bustle of daily life. Many tourists also visit this place during winter to escape from the cold temperature of the North. But prices soar during these peak times.
3. Type and size of the yacht: The next factor that would decide your yacht tour budget is the size and type of the yacht. To decide the size of the yacht, first, you have to decide how many people you are going to travel with. And depending on your needs, you can opt for either sail or motorized boats for the trip.
4. Other costs: Based on the location of the charter and the type of yacht you choose like the private boat rental charter Palm Beach, some of the yachts offer all-inclusive charters. In most cases, yachts usually charge "the base charter fee along with the expenses". Here you have to pay a 25 – 35% deposit towards the expense of food and beverage, house bar, and fuel.