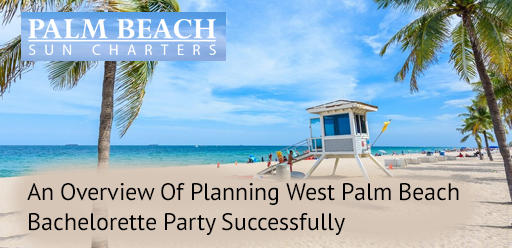 An Overview Of Planning West Palm Beach Bachelorette Party Successfully
October 4, 2021
Are you looking for a perfect day to spend your day in West Palm Beach? If you live in a snowy, cold area, then visiting the tropical beaches of Florida, feeling the ocean breeze, soaking up the sun, enjoying the beautiful blue sky, and camping under the night sky on the beach will feel heavenly! And when it comes to your bachelorette party, you can make things even more special by choosing the West Palm Beach boat rental tour. Nothing can be more special than spending a day on the boat.
So, if you are going to visit West Palm Beach for the first time for your bachelorette party, then here comes an overview of planning it successfully.
1. Plan accordingly: One of the major factors of planning your West Palm Beach bachelorette party is to plan the things that you want to get out of the trip. Do you have a plan for organizing your trip to the beach? Do you want to hit the beach apart from taking part in different types of cultural or sporting events or visiting the amusement parks? Or do you want to plan the bachelorette on a boat far from the tons of tourists and large crowds? West Palm Beach is full of tourists in the summer months as the schools are not in session at that time. Besides, the beach remains crowded even during spring break. So, if you are planning to avoid the crowd totally, then plan your trips in September through November, February, early March, and May. If you are clueless about what to do on your trip, then you can consult with the expert tour guides and can plan the itinerary according to have a memorable experience.
2. Things you want to do: If you are thinking of spending most of the time relaxing on the beach or swimming, then early fall and late spring are the perfect times to enjoy time in the warm water while avoiding the crowd. Besides, you can perform activities like boating, jet skiing, kayaking, etc. So, if you visit West Palm Beach during summer, you would get warmer water. This is why you must visit this place in late April or later to enjoy more time in the water. But if you want to enjoy the sunset sitting on the beach or floating on the boat, then visit West Palm Beach in October or November. If you are planning to go for a boat trip with your people, then you can either opt for day trips or can go for two night/three-day cruises. Or you can organize a fishing trip to Peanut Islands. So, you can easily plan the trip for Friday and come back on Sunday. The cruise lines in West Palm Beach offer easygoing and super chill cruises between different destinations. And the cruise trip also allows you to maximize your stay in this beautiful place by exploring another destination located just a short stint away from where you started. So, it is more like a vacation within a vacation.
3. Plan your trip around rainy and hurricane seasons: Hurricane seasons begin from June and peak in August and September. Besides, the rainy season begins in May and continues through October. So, avoid visiting West Palm Beach at this time. And even if you visit this place during the rainy season for celebrating bachelor party in West Palm Beach sun charters boats, then have some indoor plans on the back burner.
Conclusion:
You can visit West Palm Beach any time of the year if you want to soak yourself in the sun and want to stay away from the cold.