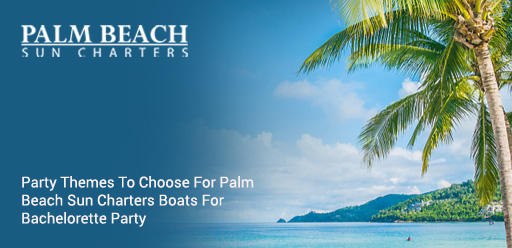 Party Themes To Choose For Palm Beach Sun Charters Boats For Bachelorette Party
October 25, 2021
Is your friend going to say bon voyage to her single life? Do you want to help her to celebrate this special moment of her life? Then arranging a bachelorette party for her will undoubtedly be the best option. And if you want to organize a special bachelorette party for her, then renting Palm Beach sun charters boats for bachelorette party for this purpose will be the most unique option to send off your buddy to set sail for the wedding. By choosing a boat rental in West Palm Beach water, the bride-to-be can sail along the water while partying in a tranquil environment with her close ones.
Arranging the bachelorette party in a rental boat also offers you the much-needed privacy that allows you to let loose and have fun without worrying about anything. It will also be the best option if your friend prefers to enjoy the outdoors.
And to make the party even more exciting, you can opt for a themed party. Like other events, a theme can add loads of fun to the bachelorette party and can make the day worth remembering throughout life. So, if you are planning to consider a themed bachelorette party for your friend, then here are some options to count on.
1. Adventure: If your friend is fond of adventure, then choose an adventurous theme for her at her bachelorette party in Palm Beach sun charters boats. Base the theme around the shipwreck and ask the guests to wear costumes that match this theme. Additionally, you can include some fun-filled survival games that you can play and have fun with.
2. Hawaiian fun: There is no point in organizing an ordinary celebration on this special day. Add a fun-filled element to the bachelorette party by adding the Hawaiian theme. To do this, you can decorate the party boat with theme-based decorations and tropical flowers. Besides, you can have grass skirts and floral crowns for the guests to wear on the boat. And you can also arrange Hawaiian food, tropical drinks, and music to make the party even more happening.
3. Mermen and mermaids: This is one of the most intriguing and mystical themes that you can choose for a bachelorette party when sailing in the water. Here ask the guests to deck up as mermen and mermaids for the party. And don't forget to decorate the Sun Charters boats bachelorette Party in Palm Beach according to the theme.
4. Hollywood calling: Playing dress-up is one such fun-filled activity that everyone enjoys. And when it comes to getting decked up as your favorite celebrity and pretending to live their life for several hours, things can become even more exciting. Hollywood is one of the most unique themes and people will just love it. To arrange this party, ask the guests to dress up as their favorite Hollywood celebrities and then have fun at the party. Arrange a red carpet for the celebrities, hang up several gold stars throughout the boat, and set up a photo booth area where the guests can click photographs. To make things even more exciting, you can even organize an award ceremony night. Here you can hand over prizes to the best-dressed people.
5. Casino Royale: Partying on the charter boat is a great experience. And if you want to extend this experience with something luxurious, then choose a casino theme for the same. Ask the guests to dress in luxurious outfits and then arrange the popular casino games like Black Jack and Russian Roulette. Organize some great music that matches the theme. Besides, arrange the food and drink properly to enjoy the night at the best.