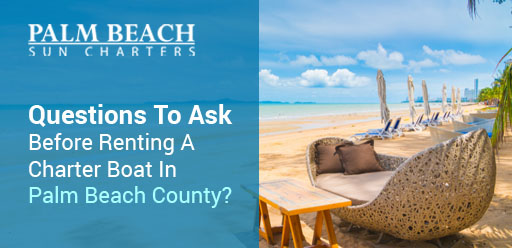 Questions To Ask Before Renting A Charter Boat In Palm Beach County?
April 29, 2021
Choosing a charter boat during your trip to West Palm Beach can whisk you away to the blue water of the Atlantic Ocean. And this can offer you a unique vacation idea. However, if you are planning to book a captained boat day charter West Palm Beach to your next trip to West Palm Beach, then you must get the answers to some important points beforehand to ensure that you enjoy a smooth sailing and have a memorable experience. Read on to learn more about this
topic.
 What are the vacation boat rentals? The majority of the vacation boat rentals operating in West Palm Beach are houseboats with sun-drenched decks, ample sleeping and living spaces, water slides, and full kitchens. If you are planning to get a little upmarket with the birthday dinner boat rental charter cruise West Palm Beach, then you can enjoy some other amenities like jet skies and hot tubs. Apart from that, you can also consider yacht charters and floating homes when planning a getaway on the sea.
 Is it important to have the captain's credentials? If you are planning to rent a conventional houseboat for the next boating vacation, then there is no requirement of having the prior experience to take on the duties of the captain. On the other hand, a fast boating lesson is more than enough to ensure that you navigate in confidence. But if you decide to rent a yacht, then it is important to have the necessary qualifications to operate it.
 Cost of renting the rental charter for your vacation: The cost of renting the top private boat charters Palm Beach County varies depending on several factors. It is not limited to when and where you decide to enjoy your getaway but also to how long you want to take the boat for rent. For example, an overnight boat rental will cost less than renting a weekly boat. Similarly, the cost of the boating vacation also depends on how luxurious you are planning to go. You must know that the superyachts often ask for a hefty price even for the overnight rental.