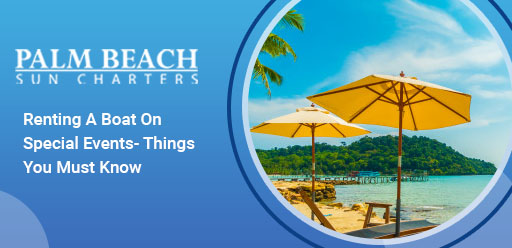 Renting A Boat On Special Events- Things You Must Know
June 4, 2021
One of the best ways to enjoy a memorable and extraordinary event is to organize the event outside the confines of normality and tradition. This is the reason why now more and more people opt for unique options instead of ordinary venues like local town halls and hotel gardens. And one of the most out-of-the-box options is to rent a private charter for the event. Renting a boat is so rare that the memories of the event will live long in the memories of people, who would attend it. Besides, organizing the event in a captained boat day charter West Palm Beach would offer the guests a completely new experience. Other things that make renting a boat on
special events an unforgettable experience are:
1. The boats offer additional privacy: Unlike the town hall events or halls, the Intracoastal cruise boat rental charter is only accessible to the selected staff members and guests. So, there is the least chance of malicious attendees or gate crashers ruining your special event.
2. Renting a boat is a more economical option: Considering the benefits and the exclusive features of boat rental, chartering a private yacht is mostly cheaper than hiring venues with exclusivity and similar facilities.
3. Boats bring a relaxing atmosphere: When you decide to rent a boat for a special event, like when you plan for renting a birthday dinner boat rental charter cruise West Palm Beach, the sights and sounds of the moving water offer you a relaxing experience that can affect your tampers and moods.
4. The environment of boats promotes socializing: Renting a luxury cruise offers a refreshing experience that will make you more sociable and amiable. Besides, the
limited floor spaces of the boats also create camaraderie, which promotes the guests to network and communication with each other. This thing makes boat charter events a great choice even for business meetings.
5. Boats can help you with logistics: The boat charters are available with the full ensemble of staff members, who don't only help you to prepare for the events, but they also entertain the guests fully. This will help you to focus more on the major events.