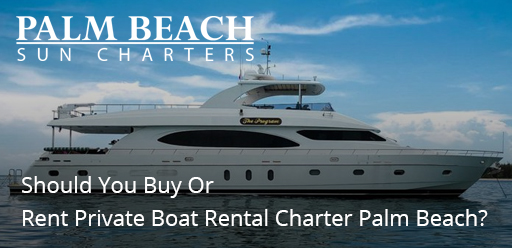 Should You Buy Or Rent Private Boat Rental Charter Palm Beach?
November 19, 2021
Do you prefer spending a hot summer day on the clear and cool West Palm Beach waters? How do you feel about exploring the hidden waterways and mangrove forests, which make up this beautiful coast with the private boat charter? Now when it comes to choosing boats in West Palm Beach, people often ask whether it is a good option to own or rent the boat. If you ask us, we would always say renting is better. Here are some reasons why:
1. Renting is a cost-effective process: It is no more a secret that buying a boat is a hefty investment. The boats don't have costly price tags, but they are also highly expensive to maintain. Just like houses and cars, boats also need regular maintenance that often adds up. The majority of the boat owners also have to pay to store the boats when they are not floating. Besides, here you will also have to purchase a range of boating equipment. But it costs quite less to rent a boat. And when you rent private boat rental charter Palm Beach from a reputable company, you get all the boating equipment ranges. Therefore, you don't have to think about scheduling. And there is also no requirement of paying the maintenance. The guests have to pay for the time they spend on the boat.
2. Boat rentals offer more variety: When you will look for private boat rentals in West Palm Beach, you will find many options. Therefore, it is a wise option to try as many options as possible. And you can also try different types of boats every time you take the lease. But when you decide to purchase a boat, you always commit to any specific make and model. So, if you are planning to cruise around the water for a day, then rent a boat. Or lease a fishing boat if you are planning to go on a fishing adventure.
3. Boat rental is guilt-free: One of the biggest regrets of every boat owner is that they don't get the scope to explore the ocean beauties enough. The main reason behind it is that most boat owners never utilize the vessels. But when you decide to rent a Tequesta Sandbar boat rental charter, you can purchase unlimited or hourly packages. This means you can buy the package that fits your requirement the best.
4. Boats often depreciate: People choose to invest in real estate properties as it produces a decent ROI. But the boats don't. Instead, the boats are one of the assets that depreciate fast. Therefore, the boats lose their value over time like cars. And the value of the boats also depends on the engine hours. So, the more your boat is used, the less value it has.
Here is a list of boat depreciation rates:
 The boat riders retain 66% of the total boat value after 3 years
 Fiberglass fishing boats depreciate 60% of the total boat value after 10 years
 Pontoon boats devalue 30% after 5 years
 Yachts and sailboats hold 85% of the total boat value after 5 years
But renting a boat can eliminate the stress of reselling the deprecated boat. When you take a boat on rent, you can cruise the ocean without thinking about the long-term value of the boat. So, it is a win-win situation. Here you can also enjoy the amenities like fishing and snorkeling gear, captain, and amazing staff members. And once your trip completes, you can end it by returning the boat to the dock. There is no need to maintain the boat or no need for post-trip boat cleaning.