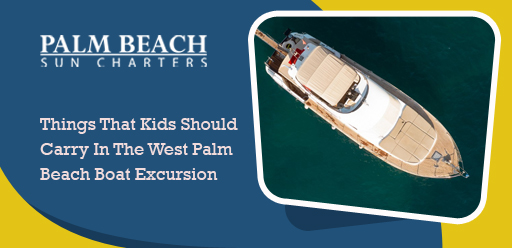 Things That Kids Should Carry In The West Palm Beach Boat Excursion
August 27, 2021
Boating is the ideal family-friendly activity designed for people of all ages. Boating can minimize distractions from the outside world and it allows everybody to focus on their family time. Besides, studies prove that when kids spend leisure time with their family members, it can be beneficial for their psychological development while promoting positive life skills. But when you are planning a boat trip with your kids, you must be a little anxious about keeping the kids entertaining when you are onboard.
However, you can make the experience highly memorable for your kids by keeping a few things in the boat when planning the West Palm Beach boat excursion with them.
1. Their favorite toys: Kids, mainly for the little kids, the sense of familiarity helps to acclimate new experiences and environment. Here a blanket from home or a good stuffed material may help. Don't forget to take the thing back when you tie up for the weekend. You can also allow your kid to pick out the toys for the boats.
2. Books about nature: Whether you are going for an excursion in an inland river or on the ocean, the interconnected ecosystem thrives below and above the water. So, if your kid is an avid reader, then encourage him/her to choose books about fishes, water-oriented birds, undersea life, such as plants, etc. Besides, you can also plan a game out of identifying the things that you can see on the charter boat.
3. Travel journal: Do you have a scribe in your family? Then surprise him or her with a special journal for capturing the details of the yacht and you can accompany the journal with the photos from the camera. Youngsters, who are unable to write properly, can draw pictures in the blank book. And when you will see the pictures later, you will be able to laugh and smile at the memorable moments.
4. Waterproof camera: Waterproof camera is another important thing that you must ask your kid to carry on the West Palm Beach boat rental trip. Depending on your budget, you can choose different types of waterproof cameras for your kids.
5. Carry wet suits for kids: If you want your kids to have great fun on the boat trip, then don't forget to carry a wetsuit for him/her. Kids often get cold when they have fun in the water. The wetsuits would make them comfortable even if they want to swim for long.
6. Carry the snorkeling gears: If you want to explore the beautiful underwater world and the underwater marvels with your kids, then you must carry the snorkeling gear with you. It will not only make them happy, but it will also help in retaining their interest in marine biology or oceanography.
7. Pack the binoculars: Apart from playing pirates, binoculars are necessary to look at other boats in the distance and the wildlife. And it can be great fun. So, don't forget to carry the binoculars when you are planning a boat excursion with your kids.
8. Recipes to prepare onboard: Even if you are on a West Palm Beach dinner cruise, you must be ready with some instant recipes to prepare onboard to make your kid happy. Irrespective of their ages, kids can easily choose dishes designed for the galley.
9. Arrange good music: Like adults, kids also love music. So, to ensure that the kids have a great time on the yacht trip, prepare a boat playlist for them. Besides, you can also play the role of a DJ if you have a Bluetooth-enabled stereo system in the boat.