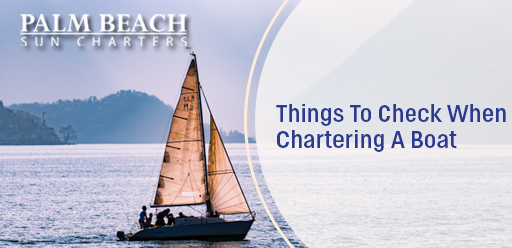 Things To Check When Chartering A Boat
May 21, 2021
Chartering the boat is one of the dream bucket list travel experiences for anyone. So, if you are planning to put your dreams into action, then you have to ensure that you plan things right. A luxury charter is expensive. And you must like to have a perfect experience anyway. Like any other luxury vacation, yacht charter trips are also unique and these can offer you different types of experiences.
But before you book the charter boat, here are the things you need to check:
1. Travel destination: The destination is one of the most important aspects of planning your boat rental trip. Palm Beach is a great destination for both couples and families to enjoy a romantic and relaxing getaway.
2. Group size: Are you planning for a family or friends trip or a romantic getaway? So, when you book the charter boat, select the perfect boat size that fits your needs. You can talk to an expert boat rental service provider and can use his expertise and experience to find out the perfect ship.
3. Activities: When you book a Tequesta sandbar boat rental charter, you will come across different charter packages, and depending on your needs, you can accommodate
the activities that you prefer. So, depending on your preferences, you can opt for some adventurous activities or relaxing activities like a city tour and shopping. The right boat can offer you the best vacation that you always wanted.
4. Type of boats: When you choose a reputable boat rental company for Jupiter island Intracoastal cruise boat rental charter, you will find several options of boats and there is no shortage of options. And each type of boat comes with some unique features. Therefore you can choose the preferred boat type considering the amenities that you want, your sailing preferences, and the total number of people you will have with you in the boat.
5. Your budget: The size and type of the yacht would be the major factors for deciding the cost of your trip. Apart from that, you should also consider details like alcohol, food, communications, fuel, port charges, and other extra activities for deciding the budget of your boat trip. The cost can often vary based on your requirements.
6. Reviews: Don't forget to check the reviews of different boat service providers before you rent charter a boat for few hours peanut island for your needs. Also, check whether the boat you have selected has reviews from other travelers.