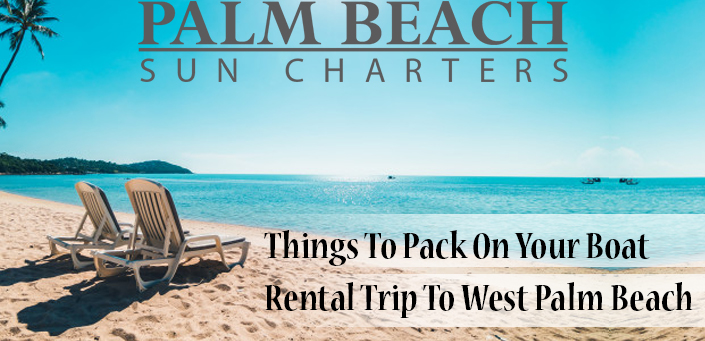 Things To Pack On Your Boat Rental Trip To West Palm Beach
March 26, 2021
Boat renting holidays have now become very popular in West Palm Beach. The best thing about renting a boat is that it offers the tourists unprecedented freedom and flexibility in planning the vacation. And renting a charter is also quite simple. All you have to do is to find out one of the private boat rental charter Palm Beach agencies and find out the best deal. And once you book the yacht, the next step is to do the necessary packing to ensure you have a great trip. So, here is a list of things that you have to pack for your yacht vacation in West Palm Beach.
1. Footwear and swimwear: Cover-ups and bathing suits are must-haves in your charter boat rental trip as you sunbathe, swim, and lounge your days away. Besides, carrying flip flops on the Tequesta sandbar boat rental charter trip is more practical than carrying high heels as you may have to walk on different beaches and decks and may have to get in and out of the dinghy many times during the trip.
2. Other clothing: Dressing up during the West Palm Beach trip is completely different than dressing up when traveling to some other destinations. For daily wear, shorts and t-shirts are a must. And sundresses, flat sandals, and casual button-up shirts are perfect for day trips and restaurant meals on land. Apart from that, you can also pack cardigans and light jackets for those places where the air conditioning is a bit cool.
3. Sun protection: When you rent charter a boat for few hours Peanut Island, you would be exposed to the sun constantly. So, to ensure that your skin is well-protected, you must carry long-sleeved, light shirts, and sunscreen. Besides, don't forget to carry hats and sunglasses to guard and protect your eyes against heat exhaustion and sunburn.
4. Other miscellaneous items: Apart from the above-mentioned things, there are some other things that you may prefer to carry on your yacht trip. For instance, if you like to read books while traveling, carry those. Or if you prefer sleeping on a special pillow, then carry it with you.