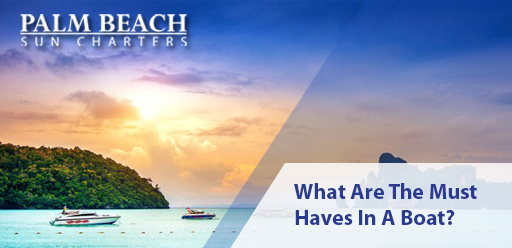 What Are The Must Haves In A Boat?
May 14, 2021
When you plan to take a boat on rent, there is an important checklist of things that you must check. A boat must bring aboard these things when pulling off the dock. Let's get the details.
1. Safety gear: This is the most important thing that must be on top of your list during renting out a boat for the West Palm Beach boat tour. The safety gear must include the Coast Guard mandated gear and other important items that you must keep at close whenever you go boating.
2. Anchor and rode: Often boats don't carry the anchor and rode as there is no plan of anchoring out. But this is not a good thing to do as you don't only need the anchor and rode for having the lunch "on the hook" or for partying on the sea. These things also work as safety gears. If the boat breaks down in case of an unfortunate event and needs a tow, then the anchor would help the boat to maintain its position. And it will make it easy for the towboat to find you.
3. Basic cleaning supplies: Even if the boat is cleaned up at the dock, there must be some basic cleaning supplies available when aboard. Some of these things include a soft rag, boat soap, a scrub brush, etc.
4. Chords and chargers for the electronics: When enjoying your West Palm Beach boat excursion, you would need the essentials like your cell phone, Bluetooth speaker, camera, and some other electronics. But without proper charging, these electronic goods will not work. Therefore, before renting a boat, you must check whether it comes with chords and chargers for the electronics. The majority of the modern boats now come with both 2-volt plugs and USB outlets.
5. Proper documentation: When you plan to go for an Intracoastal cruise boat rental charter ride, it is important to carry important documents both of the boatmen and the boat. Usually, it includes things like a boater education card, the personal identification details of the boatmen like driver's license, and the boat registration details. So, before you plan the trip, check the requirements of the specific state.
6. Emergency repair items: The majority of the boaters are more interested in having fun on the water than performing on-the-water repairs or swinging the wrench. So, the boat must carry spare parts and a fully stocked toolbox to perform repairs quickly in case of a minor emergency.