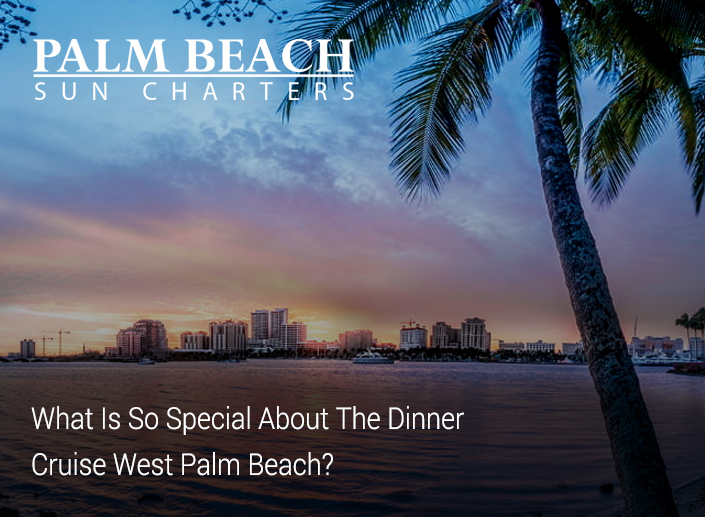 What Is So Special About The Dinner Cruise West Palm Beach?
January 21, 2022
Imagine you are standing on the deck of a spacious cruise and the gentle breeze is whipping your hair when you gaze out to the sea. Think that you are sailing off into the sunset in one of the most beautiful destinations on this planet by taking a dinner cruise West Palm Beach. Nothing can be a better way to explore the gorgeous Palm Beaches.
So, planning a private and luxurious dinner cruise in West Palm Beach is an exciting and fun- filled way to enjoy your special days like your anniversary, family reunion, birthday, or engagement. You and your guests will be thrilled with the experience when all of you will embark on this once-in-a-lifetime journey while gliding along with the beautiful water of the Atlantic Ocean. Besides, here you will also be able to enjoy the beautiful cityscape of West Palm Beach and take in a beautiful sunset while dining on the finest quality cuisine and sipping on the refreshing drink. Therefore, it is important to plan things carefully to ensure that you enjoy a
romantic dinner cruise on your special day with some unforgettable memories.
How to plan for the dinner cruise?
When it comes to planning for a memorable dinner cruise, your first decision will be to choose the yacht, which will accommodate you and your guests. Here, it is important to choose one, which will meet all the desires and needs associated with boat cruises. For instance, if you are planning to spend an intimate night with your family and friends on the water, then you would need a vessel, which would exude sophistication and class. Besides, the cruise must be designed and decorated to showcase a great experience so that your guests can enjoy a majestic interior. This way, you will be able to enjoy the rich interior, top-tier amenities, multiple levels, and modern décor of the vessel. Once you choose the vessel, the next things you have to decide are the selection of themes and decors. Both of these things can help you to have the right atmosphere on the yacht.
After choosing the yacht and theme for organizing a memorable event in the dinner or sunset cruise West Palm Beach, you have to be creative with your dinner and drink menu. The leading cruises are always ready to offer you a customized menu just the way you want. Besides, menus can also be geared towards people with allergies and diet restrictions. With a complete range of mouthwatering menus, your guests would be raving about the experience for many years.
Important points to consider:
1. Don't choose a yacht, which is cheap: To ensure that you have a prime experience, you should book a cruise, which is not cheap. Cruises, which are on the upper end of the budget, offer the best quality service, food, and add-ons. You must not like to compromise on the fun just for a few bucks. So, before you book a yacht, always ask whether the company offers customized food and drink options. Besides, if you are planning to take kids with you on board, then ask the company about kid-friendly
entertainment, food, and games. And safety is also important when kids are on board.
2. Crosscheck the location and timing of the cruise: Before booking the cruise, it is also important to check the schedule and date. Besides, it is also important to check the drop-off and boarding locations. The majority of the boats have fixed routes and piers. Even though you want to book the entire yacht for a certain period, the routes will never change. The dinner cruise is not only meant for personal events, but it can also be the perfect option for impressive your boss and other co-workers.
3. Add a bit of spice to the recipes to have more fun: Usual food and drinks are not enough to make your party in the dinner cruise happen. The weekend special dinner is also not happening. To make your special day a memorable one, you need to live up to things with live music and different types of entertainment packages like dance for the adults and magic shows for kids. Although you will not be able to see the important landmarks of West Palm Beach while being on board, you can always ask the company for the best sightseeing experience.
4. Compare, check, and book the yacht: Like you compare all the options before you buy any products or services online, go through different cruise sites and different business listing websites to check the existing customer reviews. Genuine customer reviews can offer you a clear idea about the quality of services, food, entertainment, and other important things related to the cruise. Remember, a prime experience will not come for cheap. So, before you make the final booking, do a thorough check before confirming the booking.