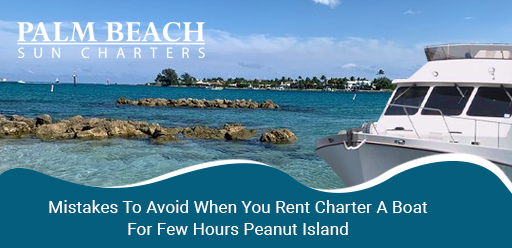 Mistakes To Avoid When You Rent Charter A Boat For Few Hours Peanut Island
September 17, 2021
So, you are planning to rent charter a boat for few hours Peanut Island, you will surely get to enjoy the experience. But before you start your rental boat trip, you need to remember that boats are not simple transport. So, in this blog, we will mention the important mistakes that you must avoid when it comes to renting a boat.
1. Not checking the boat type: It is important to choose the right type of boat that would suit your requirement. Here you have to ask yourself some important questions to find out whether the boat you are planning to rent serves your purpose. Some of these questions are when and how often you will use the boat, type of boat that would suit your need the best. There are different types of boats as per activity. So, when you are planning to rent a boat, the purpose must be well-defined. For example, you must not like to hire a sailboat if you want to continue the boat rental trip for a day or two. On the contrary, a pontoon boat is perfect for snorkeling, swimming, and leisurely cruising. Similarly, the bass boat is perfect for finishing, but if you want to lounge in the sun or are traveling with a group of people, then renting this boat is not the right option. Apart from that, you can also consider custom boat rental charter options in Palm Beach.
2. Non-existent or insufficient insurance: Even if the boat is handled carefully by the experts, accidents are sometimes inevitable. So, before you hire a boat, make sure it is properly insured. Besides, get familiar with the insurance options and the details of boat insurance. This way, you can ensure that if anything gets damaged, it will be covered.
3. Don't rent a boat from any stranger or a new company: Renting a boat from strangers or a completely new company can be very stressful and confusing and may result in many problems. So, never do it even if you are getting a great price. Boats hiring from strangers are a gamble with odds, which is not good. The renowned boat dealers offer many options to travelers to select from. Here you can drive around and compare different options before making the final decision.
4. Not checking the boat condition: Before renting a Captained boat day charter West Palm Beach, make sure all the boat parts are properly working. Also, check the signs of proper maintenance. The important signs include the signs of damage, cracks in the fiberglass below and above the waterline, loose sheets, signs of mildew, belts, and engine performance. Also, check whether the electronics are properly working or not. In case you notice any damage, then make note of all the damages to ensure that you are not held responsible later. You should follow the same process at the end of the rental to ensure that the boat is in the same condition like you received.
5. Boatmen are not knowledgeable in operating boats: Operating boats is completely different from driving cars. Here one needs to deal with tides, wind, weather, and currents are some of the important factors to operating the boat safely on the water. Before heading out for the boat ride, check whether the boatmen have relevant knowledge on operating them. The majority of the states now need boaters to get a boating license. So, don't forget to check the license. And the safest option is to join a basic boat safety class or boating education classes before you go for the boat rental trip. If you are still not comfortable, then you can opt for a captain.