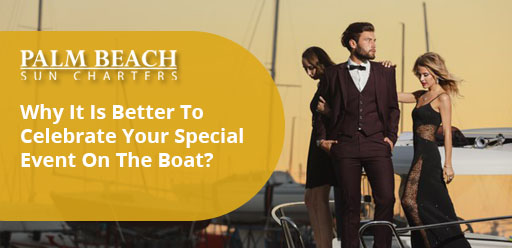 Why It Is Better To Celebrate Your Special Event On The Boat?
June 25, 2021
Are you planning to organize an event on a boat? Finding and reserving a good venue for your special occasion is important as it can set the tone for the total event. But by arranging an event in West Palm Beach boat rental can help you to make the event even more spectacular and one to remember for years. Apart from that, there are some other reasons why it is always better to celebrate your special event on the boat.
1. You can have variety during the events: Parties or events arranged on the boats are mostly wonderful as the boats offer the variety that the attendees often crave. So, instead of partying in the closed, stuffy rooms, a party in the West Palm Beach dinner cruise allows the guests to move freely from one space to another or to walk around the boats. The boat events also include variety and therefore the events can include dinner in the dining room before moving to another section of the boat for entertainment or cocktails.
2. You can enjoy the sense of exhilaration: A trip on the water is exhilarating. So, whether you are planning a birthday party, an anniversary, a wedding, or a corporate event on the boat, you can enjoy the sense of exhilaration while your guests can enjoy the fresh air from the ocean along with the decadence of being onboard a yacht.
3. You can convert your event into an excursion: Guests will love to attend your event if you organize a West Palm Beach boat excursion where the boat will leave the shore for water. And once your boat leaves the shore, it will promote a carefree attitude which will help the guests to have fun. And it will work as the best way to escape from reality.
4. You can accommodate both large and small gatherings: Whether you have invited many people or just a few people to your event, you can easily accommodate the guests on the boat. So, there is no need to worry about the accommodation of the guests and you can concentrate fully on your party.