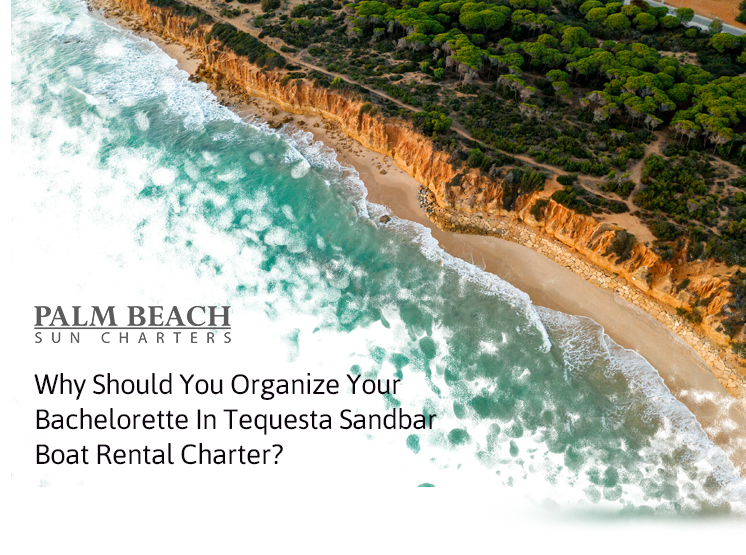 Why Should You Organize Your Bachelorette In Tequesta Sandbar Boat Rental Charter?
March 10, 2022
Are you looking for a cruise theme for the bachelorette party? So, whether you are planning to hop-on-board the yacht charter or just want to incorporate the cruise theme into the party, cruising is a popular theme in the bachelorette. But do you know why people like the idea of cruising? One of the main reasons for it is that boat rental charters are one of the best travel options, mainly if you are located near Tequesta. Renting these charters offer you the scope to enjoy many types of onboard entertainment options, visit exotic locals, packages to convert your regular charter boat into a booze cruise, and dining to entertain everyone. Besides, organizing your bachelorette party on the charter boat also works as a great way to incorporate some flavor and flair into it. Charter boats are well known for three features- wacky cruise entertainment, delectable food, and free-flowing drinks. You can incorporate all these features into the cruised-themed bachelorette party quite easily. For instance, you can set up the style of food buffet and add a complete range of cruise fan favorites. Drinks are another feature that can evoke the atmosphere of a cruise. Tequesta sandbar boar rental charter can take you to a tropical destination, so you can opt for pitchers of frozen drinks. Apart from that, people choose to rent boats for bachelorette parties as these boats offer a complete range of activities to suit the requirements of different people. So, here you can party with a group of people of diverse interests and can still have a gala time. Even if you have a large group to party with, you can choose a fluid itinerary, which allows the guests to enjoy and explore their interests. For instance, you may find some people hanging out at the deck all the time, while others may hit the casino or perform some other cruise activities.
Nighttime is another great time for your guests to enjoy themselves together in the boat. The majority of the leading cruise ships offer different types of entertainment venues, bars, and lounges for the group. So, it depends on your version of the nightlife. This is why checking the offerings of the Sandbar boat rental charter is important before you rent the charter.
Now let's have a look at some of the reasons why organizing your bachelorette party on the boats make sense.
1. They are affordable: Boat rental charters are one of the most cost-effective methods to travel with style. Although you may have to pay a good amount for the services, it will still cost less if you compare it with other options for celebrating your bachelorette. Still, if you are worried about the cost, then you can easily ask the boat owner or the captain about the fees and can also go through the descriptions regarding boat listing.
2. Cost control: One of the best reasons why people choose to rent charter boats for celebrating their special days or for traveling is that here they can control the costs successfully. As charter boats and cruises come with the pay before-you-go option, they become perfect even for people, who want to plan things within budget. Besides, it can also ease all the hiccups associated with other vacations where one person has to foot far more than his share of the bill.
3. Options for entertainment: One of the best things about cruising is that here you can have different types of entertainment options as per your preference. So, you can book a lounge for a private party, can decorate the charter according to the bachelorette party theme, or can enjoy without all these. All you need to do here is just to go with the flow and you can have a gala time.
4. You can rent themed cruises: Although organizing your bachelorette on the boat is a unique thing, you can even convert it into something special by renting a themed cruise according to the theme of your bachelorette party. This will even bring you all together in a completely fun-filled way.
Some of the popular theme ideas for bachelorette parties are:
 Beach themed party
 Sail before the veil themed party
 Tropical themed party
 Nautical themed party
 Flamingo themed party
 Something Blue themed party
 Color scheme themed party where you can include the favorite colors of the bride
These are just some of the ideas. Here the possibilities are just endless.
5. You can enjoy a guaranteed girl time: Do you know what I mostly like about cruising? It offers me the scope to get away from everything. Although every leading cruise operators offer WiFi on the boat, which allows you to enjoy international calls to stay connected with your near and dear ones. But at the same time, cruising allows you to stay unavailable to the outside world.