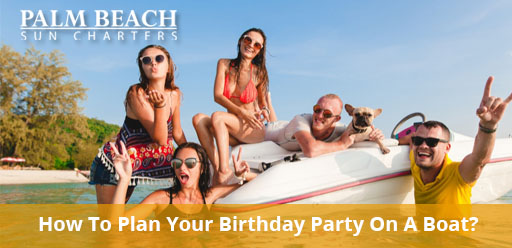 How To Plan Your Birthday Party On A Boat?
June 12, 2021
Birthday parties are one of the most important events of our lives. So, people often choose to celebrate their birthdays in the most memorable ways possible. If you are one of them, then nothing can be a better option than renting a boat or yacht in West Palm Beach for your birthday. Organizing your birthday party on a boat or yacht will not only impress the guests but will also create some beautiful memories that would last for years. Besides, both you and your guests will be able to enjoy the beauty of the ocean while mingling in the lavish environs of the boat.
So, if you are planning for your birthday party on the West Palm Beach boat tour, here are some effective ideas to make your birthday more unique and elegant:
1. Opt for a formal one: When you choose to go for a boat birthday party, you can either go for a theme or can ask the guests to wear formal. For example, you can ask men to wear ties and women to wear ball gowns. Apart from that, you can also ask the guests to wear whatever they feel like.
2. Go for a book or movie-themed party: If you are a fan of any book or any timeless movie, then you can incorporate the theme of that book or movie into your boat birthday party. Ask the guests or dress up as the characters of that book or movie. It will make the party more interesting.
3. Plan a rerun of the prom: Holding your prom night can be one of the most amazing birthday party ideas you can ever have in the West Palm Beach boat excursion. Besides, this way, you can give yourself and your guests a scope to reminisce about past experiences. Apart from that, the boating environment is ideal for letting yourself loose and moving to the tunes of some of your favorite music while enjoying the food and beverages.
4. Organize a game night on the boat: In case you are a game enthusiast, then offer your guests the ultimate gaming experience at the birthday party. To make things interesting, you can play games like charades or scavenger hunts while enjoying the scenic beauty of the ocean. If you choose your boat from a reputable West Palm Beach boat rental service, then you don't have to worry about the seating arrangements for the games.